CONSTITUTION WEEK The Chapter celebrates the Constitution by obtaining proclamations and letters of support from various elected officials. Constitution Week posters are distributed and posted in our community at libraries, schools and local businesses.
PIONEER DAY is a commemoration of the founding of Chatsworth and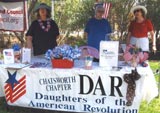 takes place in October of each year at the Chatsworth Historical Society on the grounds of Chatsworth Park South. People from surrounding areas come to this historic event and enjoy a day of fun. Members of the chapter are also present, again giving away patriotic materials as well as DAR membership and general information about our headquarters and museum. Activities include the Pioneer Challenge, encouraging children and adults to experience chores and games of yore, and booths operated by vendors or local groups offering items ranging from jewelry to plants to baked goods to original art.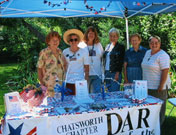 CHATSWORTH GARDEN FESTIVAL is a community event, which takes place in April each year and is sponsored by the Chatsworth Historical Society, located in Chatsworth Park South. The Chapter participates by distributing patriotic materials as well as DAR information to those in attendance. There is an emphasis on young people who receive such items as a small United States Flag, Flag Codes, Pledge of Allegiance bookmarks and the story of the Pledge. In addition, facts are obtained from those who express an interest in joining DAR.
MEMORIAL DAY Members of the chapter participate in various activities throughout the San Fernando and San Gabriel Valleys to honor those heroes who have served our country with honor and dDistinction. These events include the Pioneer Cemetery in Sylmar, Forest Lawn Cemetery in the Hollywood Hills, and a special "Honoring Our Veterans" function conducted by Los Angeles County Supervisor and veteran, Mike Antonovich. Members of the chapter attend each of these events to honor our fallen heroes.
FLAG DAY members attend various patriotic celebrations, luncheons, etc.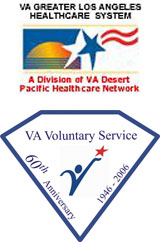 VETERANS AFFAIRS
Fourchapter members have received National Appointments as VAVS Deputy Representatives for VA Sepulveda, part of the VA Greater Los Angeles Healthcare System. Other chapter members volunteer at this same facility. They volunteer for the working at the coffee cart, which serves free coffee to our veterans each morning. Members of other DAR chapters in the San Fernando Valley also are part of this team. In addition, one member works in the Voluntary Service Office, and is a member of several Service to Veterans Committees, as well as the Executive Board of the VA Voluntary Service Committee.
A monthly bingo is part of the activities, which take place at the VA Sepulveda Nursing Home, where our veteran patients who have become disabled and unable to care for themselves, are housed. This includes both men and women veterans.

LOCAL CHATSWORTH COMMUNITY ORGANIZATION MEMBERSHIPS The chapter is represented on the Chatsworth Community Coordinating Council, Chatsworth Historical Society, Chatsworth Women's Club, Chatsworth Neighborhood Council, Chatsworth/Porter Ranch Chamber of Commerce, Burbank Genealogical Society, Santa Susana Historic State Park Association.
TAMASSEE SCHOOL POUCH COTTAGE - NSDAR Sponsored School (South Carolina) In the fall we send money to purchase Christmas gifts for the residents.
LOCAL CHATSWORTH SPONSORED SCHOOL - Chatsworth Park Elementary was adopted by the Chatsworth Chapter DAR in 2016 to provide supplies as needed.
AMERICAN HISTORY ESSAY CONTEST - Annual contest for 5th through 8th grade students. Finalists read their essays and receive certificates at the January Chatsworth Chapter Meeting.
CSUN American History Scholarship - The CSUN History Department selects a graduate student for this annual monetary scholarship provided by the Chatsworth DAR Chapter.
REACH OUT AND READ A national program that promotes early literacy by giving books through pediatric offices to children early in their development.

NATIONAL DAY OF SERVICE Project for 2019 involved Operation Courage Is Beautiful (OCIB) preparing packages for distribution overseas specifically to servicewomen.

The content contained herein does not necessarily represent the position of the NSDAR. Hyperlinks to other sites are not the responsibility of the NSDAR, the state organizations, or individual DAR chapters